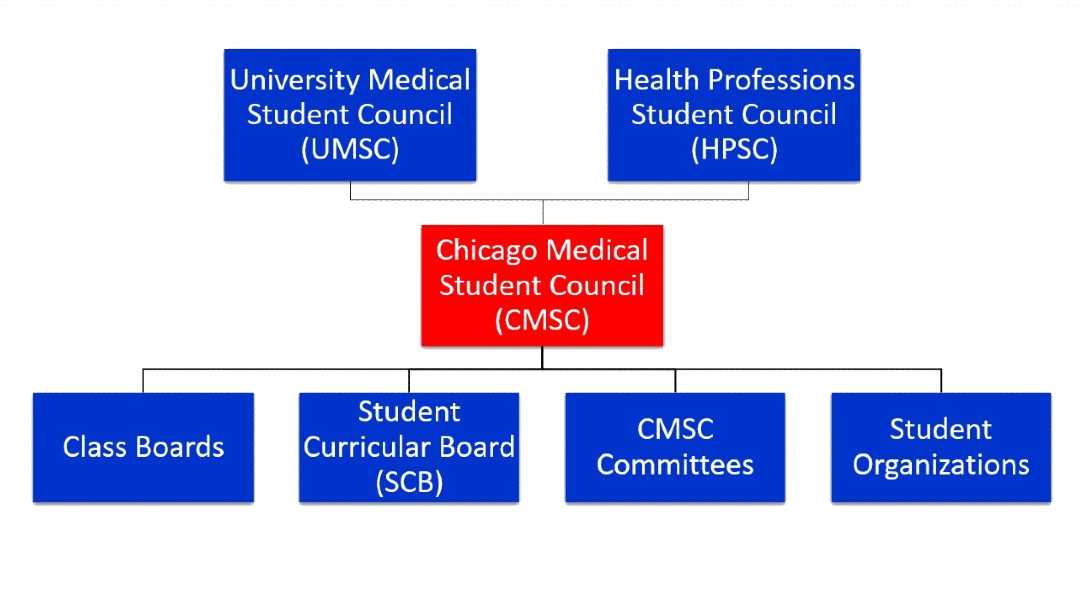 The Chicago Medical Student Council (CMSC) is the student body government for the Chicago campus of the University of Illinois College of Medicine (UIC-COM or UICOM). CMSC plays an oversight role of Class Board, the Student Curricular Board (SCB), Student Organizations, and various committees. CMSC has an executive board that meets monthly with the deans, holds a monthly general body meeting (GBM) open to all students, and regular Dialogue with the Deans events on pressing topics where students can engage directly with members of the administration on a certain topic of interest.
CMSC allocates all funding to the Class Boards and student organizations, although many of these groups also raise their own funds through fundraising events, department funds, and other parent/private organization affiliations. The CMSC President meets and communicates regularly with the four Class Board presidents to discuss issues relevant to all students and serves mainly as a resource to help guide other student leaders in terms of connections in the administration. Otherwise, the Class Boards operate rather independently but are expected to report out at the monthly CMSC Deans meeting and GBM.
All student organizations report to CMSC, specifically the CMSC VP of Student Life and Treasurer. For an organization to be made official at UICOM, they must get approval and undergo a formal voting process. This allows student organizations to be placed on the CMSC website, gain access to funding, and more.
The Student Curricular Board (SCB) operates mostly independently, but the Head of SCB is on the CMSC executive board and reports on any issues related to the curriculum at UICOM.
Finally, CMSC has several committees to which it appoints various students including: Admissions, Alumni Council, HPSC, Student Wellness and Resilience Committee (SWRC), and more. The SWRC in particular is responsible for working with administration to coordinate wellness events and advocate for improved student wellbeing and resilience on campus. Additional committees may be formed as needed.
Any student who attends the CMSC GBMs regularly is considered a member and will be eligible to vote on any changes proposed during these meetings. All students are encouraged to attend!
CMSC falls under two umbrella organizations: the University Medical Student Council (UMSC), which is the student body government across all four campuses: Chicago, Rockford, Peoria, and Urbana; and the Health Professions Student Council (HPSC) that oversees and distributes funding to all the health professional schools in Chicago.